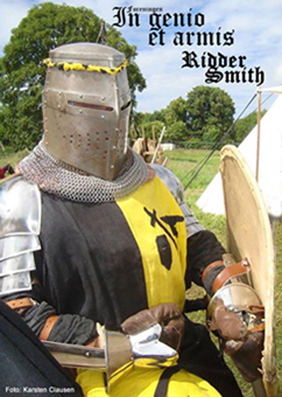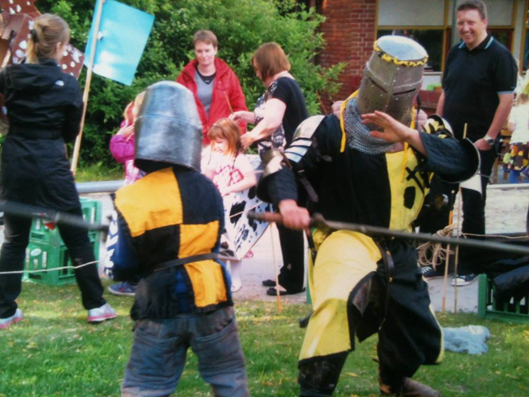 Invite a real Danish Knight of the Middle Ages to entertain at your event or children's birthday party.
Sir Smith from the group "In Genio et Armis" is a real full-contact Knight, whom you can meet at medieval events around Denmark. Sir Smith has swords that can be used by children, so that you can
try to fence with a real Knight protected by approximately 40 kg of real steel armour.
At children's parties, all the participating children can have a go at a fight against the Knight. Two groups will be organised for line combat and duels, and the historical background will be explained. The children will have a go at learning real fencing techniques. They will learn about equipment and what it means to fight in armoured combat.
The kids are allowed to attack with their weapons and there is nothing to worry about because the Knight's equipment is built to withstand hard blows with iron weapons. Safety is an important issue for me, because it must be a fun and good day for all participators.
It is an advantage if all the children are equipped with roleplaying weapons in advance (homemade weapons are also okay and can be made cheaply) . Children don't always like to lend their weapons to the other children. And what's more, it is also fun to have big battle where every participant is equipped with weapons. Also, the children can get a chance to try the knight's equipment and look at it so they can try first hand what it means to carry so much armour.
"In Genio et Armis" and Sir Smith can also be booked with a full camp and entourage.
- An excellent feature for a theme party.
An apperance by Sir Smith lasts a minimum of 2 hours and it can not be reduced. It can take that long to set up and ensure that all children have a try, if there are more than 15 children participating.
Sir Smith is based in Copenhagen, Denmark but is available for booking all over Denmark.
Please don't hesitate to contact me for a quote. A great medieval adventure is just a phone call away.
Sir Smith of In Genio et Armis
riddersmith@hotmail.com
+45 20 95 10 94
Join Sir Smith at Facebook
Agent for Sir Smith is "Smith Booking v/Torben Smith"